History In The Making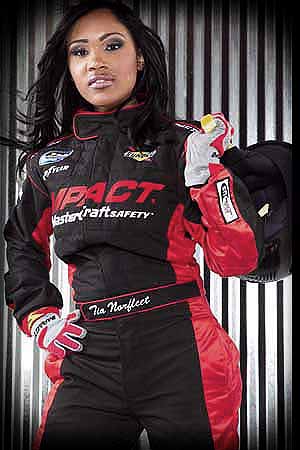 A
native of Suffolk, Virginia, but now lives in Augusta, Georgia where racing is not merely a hobby; it's a way of life. As a second generation licensed NASCAR driver, Tia Norfleet is understand what it is to break barriers and she well knows the low odds and risks involved with being a professional racecar driver. None of this matters though.

Tia loves what she does and she'll stop at nothing to make it. Racing is her life. Growing up the daughter of a professional racecar driver (Bobby Norfleet), Tia was introduced to the sport of auto racing at a very young age.

Female drivers are rare enough in NASCAR, but an African-American as well? It's never been done. Tia Norfleet is the first and only African American female to be licensed by NASCAR.

Becoming a champion NASCAR driver is a goal she's been aiming toward for quite some time. She has been successful at drag racing and on the shorter tracks circuit known as the late models, where she gained two top-15 finishes. "Around the age of 14 is when I really, really knew that this was what I wanted to do for a living; this was my passion," she stated in an interview with the Huffington Post.

"My finest memory of my racing experience would be when I was about 5.I had a little Corvette car, and my dad put two car batteries in it. I literally drove that car until the wheels fell off. Ever since then, I've just been so enthused about motorsports."

Her father, Bobby Norfleet was a fairly prominent driver himself throughout the '90s, and is credited with helping the sport gain traction in the African-American community. He lists his three mentors as NASCAR champion Wendell Scott, Hall of Fame driver Alan Kulwicki and singer Gladys Knight, who told him: "Whatever I do for you, you better be willing to do it for somebody else." Taking that advice to heart, when his daughter began to take a keen interest in the sport, he in turn shifted his focus.

"As a young girl, I knew she had the desire to do it," Bobby says. "I sort of stepped back on myself and my driving to spend the time on her." "The talent, that has to be groomed but [she had] the drive and the ambition to do it. [It was] nothing I or her mom ever pushed her into, so that's half the battle right there. The rest of it is being taught the racing business, and then being taught the discipline of racing. Because racing is not just getting in the car and driving." And for that, Tia is grateful. "I look up to my dad," she says. I've seen the good and the bad through his eyes." The "bad" can mean anything from leeches to fake promises to non-sports crises.

Bobby saw the sheer importance of this firsthand through his own career and has in turn educated his daughter the right way. "She understands what not to do," he says. "She understands who not to be around and the nightmares of the sport. She understands that this is a business like any other business."

Of course in racing, you can do all of the right things and it just takes but one instance -- just one split second -- for it all to slip away. With the risk of concussions, spinal injuries and even fatality, this is one of the most dangerous professions a person can choose. Car-accident-advice.com clearly states that: "NASCAR Safety Regulations do not always prevent accidents at race tracks." The Indianapolis Motor Speedway has had 56 deaths alone, so merely understanding safety equipment doesn't guarantee safety.

For Tia though, the fear factor simply doesn't exist. "I don't focus on getting hurt," she says. "I don't pay attention to the crashes. I believe in God and that everything happens for a reason. I say my prayers, I thank him and I just go for what I know." Safety is a vital element to any driver, really. But in the case of Tia and her father, it plays even more of a role. Bobby is quick to point out that while she is his driver (for Bobby Norfleet Racing), she's also his child, and that he always errs on the side of caution when possible. "We still have the father daughter," he says.

With that in mind, Bobby and Tia have begun to build something very special together, a father daughter duo that extends far beyond the track. Despite her hectic schedule, the duo remains extremely active in the community, with the sole purpose of educating and inspiring youth.


T
ia is committed to an array of programs, including, but not limited to, the National African American Drug policy Coalition and the Motorsports Institute, Inc., All in all, the two will make anywhere from 80 to 100 community appearances annually. "Most drivers think it's 80 percent on-track and 20 percent off-track," Tia says. "But we have adopted a theory of 20 percent on-track and 80 percent of what you do off-track."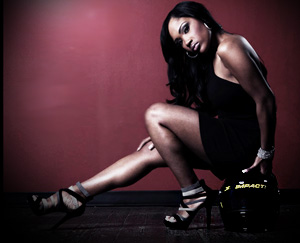 Some events would include the 2006 celebrity race in Atlanta, GA, a race brought to the community by Team Norfleet in an event to expose minority ethnic groups who would otherwise not have the opportunity to become acclimated with the motorsports world while educating the youth about careers in racing and motorsports in general. Others would be the 2007 BET's Jocks and Gems Charity Event aimed at raising funds, awareness and schools supplies for children affected by the disaster of Hurricane Katrina.
In 2009, Tia Participated in a charity event with Step Up In Georgia, Inc. which was mentoring program to help at risk youth to deal with the pressures of life. At the event Tia spoke to the children and performed a song.
This past June, 2011, Tia delivered the graduation commencement address to the Unidad of Miami Beach & the New Generation Leadership and Workforce Institute's (NGLWI) graduating class. Tia is also involved with children and looks to help out in way that she can. This year, Tia plans to take her Driven to Read program to the next level, which teaches kids the importance of reading and its kinship to racing. It will be centered around her new comic book series that is being developed by the renowned Reginald Byers.
"We will make time for any program that's positive," Tia says. Tia's goal is to teach young people -- especially females -- that it can be done, and "it" is not solely limited to racing either. Her motto, "Get right or get left," as she proudly exclaims to me, is a daily motto, not merely a clever tagline.
While Tia has learned to live in the moment, she realizes the implications of her career and will stop at nothing to earn her NASCAR stripes. Even though she's the only black female licensed in the sport, she welcomes more minorities to get involved and become drivers, pit crew member and even engineers.